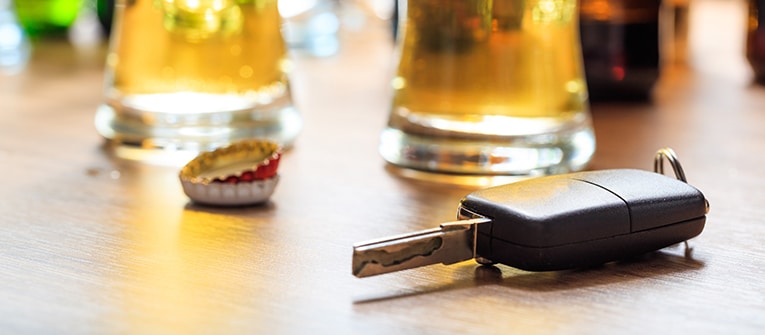 Harker Heights DWI Defense Lawyers
Experienced advocacy for felony DWI charges in Bell County and Central Texas
A driving while intoxicated (DWI) charge in Texas is a serious one, coming with substantial fines and penalties. These penalties become even more severe with a felony DWI. The majority of most first or second drunk driving offenses are misdemeanors, but in cases of repeat offenses or accidents with injuries, you may be facing a felony charge.
Felony charges bring more penalties, including increased jail time, longer license suspension, and more loss of personal freedoms. The Harker Heights DUI defense attorneys at the Mary Beth Harrell Law Firm understand the consequences of a felony conviction, and we will fight aggressively to protect your rights within the criminal justice system. Talk to us today to find out how we can help you with your case.
When is DWI a felony in Central Texas?
Although driving while intoxicated is always a crime, there are certain circumstances under which you may be charged with a felony. Typically, a first- or second-time DUI offense is a misdemeanor, and a third offense is a felony. However, Texas statutes call for the following situations to be charged as felonies:
Intoxication manslaughter
If another person is killed as a result of a DWI, the driver will be charged with a second-degree felony. A conviction for intoxication manslaughter can result in two to 20 years in state prison and up to $10,000 in fines.
Intoxication assault
When another motorist or pedestrian is injured as a result of a DWI, the driver will be charged with a third-degree felony. A conviction for intoxication assault can result in two to 10 years in state prison and up to $10,000 in fines.
Third or more DWI offense
Repeat DWI offenses become a third-degree felony, punishable by two to 10 years in state prison and up to $10,000 in state fines. Multiple offenses with imprisonment can bump this up to a second-degree felony, where a conviction could land an offender anywhere from two years to life in state prison.
DWI with child passenger
If a driver is arrested for DWI with a passenger under age 15, they will be charged with a state felony. A DWI with a child passenger conviction can result in 180 days to two years in jail and up to $10,000 in fines.
As you can see, when you are facing DWI charges, it is no time to go it alone. At the Mary Beth Harrell Law Firm, our Harker Heights attorneys work to negotiate felonies down to misdemeanors, or fight for an acquittal. We work for the best possible outcome for your specific case.
What other consequences come with a felony DWI conviction?
Jail time and financial penalties are not the only outcomes of a felony conviction. You may also face collateral consequences, including:
Mandatory driver's license suspension
Ignition interlock device on your vehicle
Reporting to a probation officer
Ineligibility to own a firearm
Loss of right to vote
Disqualification for student or federal loans
Asset forfeiture
Ban on government benefits
Our criminal defense lawyers work to reduce the chances of these potentially life-changing consequences that can last long after you have served the terms of your sentence.
Local resources in Bell County
In the event you or a loved one are arrested or facing DWI charges, you may find the following information helpful.
Harker Heights Municipal Court
305 Miller's Crossing, Harker Heights, Texas 76548
Phone: (254) 953-5620
Harker Heights Police Department
402 Indian Trail Harker Heights, Texas, 76548
Phone: (254) 953-5400
Bell County Sheriff's Department
104 S. Main Street, Belton, Texas, 76513
1201 Huey Road, Belton, Texas, 76513
113 West Central Avenue, Belton, Texas, 76513
Phone: (800) 234-3277
Then, contact one of our DWI defense attorneys for informed guidance.
What BAC level results in a felony DWI charge?
Under Texas statute, an individual is legally intoxicated when their blood alcohol concentration (BAC) reaches 0.08 percent. However, you can be charged with DUI or DWI at any time authorities determine drugs or alcohol are affecting your ability to safely operate a vehicle.
If a person's BAC is equal to or exceeds 0.15 percent at the time of arrest, it is considered an aggravating factor, which results in enhanced sentencing. This means a first offense could be charged as a second offense, and so on, which could turn a second DWI offense into a felony.
Your DWI defense attorney can explain more, as well as why it's so important to have a strategic lawyer on your side from the very beginning of the process.
Are there factors that can affect BAC results?
Yes, and our attorneys will investigate every one possible. According to the Intoxilyzer breath test company (which happens to be the breath test used in Texas), a wide variety of factors can affect the results of a test. These can include things like:
Body weight and type
Fatigue and stress
Gender
How much food is in your stomach
Rate of consumption and drink potency
Whether or not you are on medication
Any personnel who operates a breath test must be certified annually, as well as take renewal courses and exams. Breath test machines must also be maintained and calibrated on a regular basis.
How can a Harker Heights felony DWI defense attorney help?
An experienced DUI defense lawyer can be invaluable for your case. At Mary Beth Harrell Law Firm, our attorneys have decades of experience successfully depending clients against felony charges, DWI included. When we take your case, we employ a variety of strategies and defenses tailored to your specific circumstances. These might include:
Inaccurate breath test
Legality of initial traffic stop
Inaccurate or invalid field sobriety test
Violation of Constitutional rights
Demonstrating that the prosecution failed to prove its case
If you're charged with felony DWI, call our Harker Heights office today
The felony DWI defense attorneys at Mary Beth Harrell Law Firm understand the severity of felony charges and convictions. Along with prison time and hefty fines, a felony DWI can also bring loss of driving privileges and other consequences. Our legal team puts their track record of success to work for you, fighting for your rights and protecting you throughout the process. To discuss your felony DWI, call us at 254-680-4655 or fill out our contact form to schedule an appointment. Our office locations include Killeen, Harker Heights, and Copperas Cove.