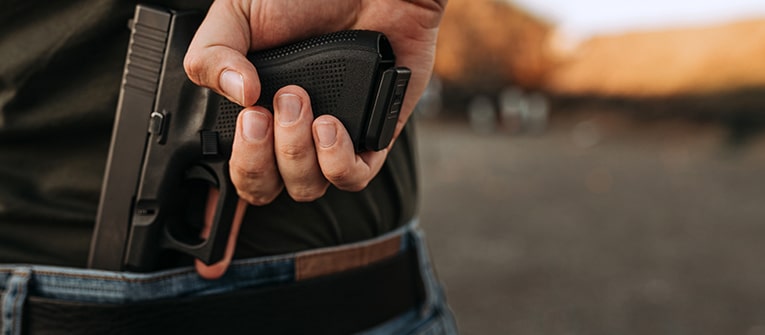 Killeen Weapons Charges Defense Attorneys
Tough defense when you're arrested for firearms or weapons in Harker Heights, Waco, Copperas Cove and across Central Texas
You have the right to own a firearm – it states it clearly in the Constitution of the United States. However, Texas and other states still have the authority to place restrictions on those rights.
It's completely understandable if you aren't aware of the details of those restrictions. The criminal defense attorneys at the Mary Beth Harrell Law Firm, however, do understand the details of Killeen weapons and firearms charges inside and out. We also know a weapons conviction can have a serious effect on your future, including losing your right to own and carry, and we'll work to protect those rights.
What are common gun and firearm offenses in Texas?
Texas has more than 1.3 million registered gun owners. We are a strong gun rights state, but the law also comes down swiftly on those who violate state statutes. If you have a handgun license, you must be familiar with the rules and regulations on when and where you can carry and transport a firearm. Our attorneys represent clients facing a variety of weapons charges, including:
Unlawful carrying of a weapon. You can be arrested for unlawful carrying if you have a handgun on your person without a license, or bring a weapon into a prohibited place. Often our clients face charges for a simple mistake. We fight those charges to ensure you don't lose your right to carry.
Unlawful possession of a firearm. Illegal possession of a firearm occurs when an individual has a firearm within five years of being convicted of a felony, released from community supervision, probation, confinement from a felony or from domestic violence or assault.
Unlawful discharge of a firearm. You can face charges for unlawful discharge of a firearm if you fire a gun in a public place or on a public road.
Firearms trafficking. Firearms smuggling or trafficking is when an individual knowingly transports or transfers illegally acquired guns and firearms.
Depending on the amount and value of the firearms in your possession, the charges and penalties can vary greatly. Additionally, the Federal Bureau of Alcohol, Tobacco, Firearms and Explosives (ATF) may get involved in some cases, underscoring the need for experienced, smart legal defense on your side.
What weapons are illegal in TX?
State statute Title 10, Chapter 46 outlines the weapons illegal to own, manufacture, transport, repair or sell in Texas, including:
Explosives (bombs, grenades)
Firearm silencers
Armor-piercing ammo
Machine guns
Switchblade knives
Chemical devices
Short-barrel firearms
Brass knuckles
Zip guns/homemade guns
There may be exceptions if you possess certain weapons because you're a member of the military or law enforcement, or if your weapon is considered a collectable or antique. Our attorneys can consult with you about the circumstances of your charges and assess what type of defense is most appropriate for your case.
What are the penalties for a felony weapons conviction in Texas?
Although Texas does have liberal gun laws, a weapons conviction can leave an indelible mark on your record, affecting your reputation, employment opportunities and future freedom to carry a firearm. If convicted of a firearms or weapons offense, you could face a variety of penalties, depending on where the alleged offense occurred, the type of offense committed, whether or not you have a previous criminal history and other extenuating factors.
Following are the potential penalties for a felony gun or weapons conviction in Killeen and across Texas:
State jail felony weapon offenses can result in 180 days to two years in prison and fines up to $10,000.
Third-degree felony weapon offenses can result in two to 10 years in prison and fines up to $10,000.
Second-degree felony weapons charges can result in two to 20 years in prison and fines up to $10,000.
First-degree felony weapons offenses can result in five to 99 years in prison and fines up to $10,000.
You can be charged with an additional offense (usually called "aggravated") if you possess a weapon during the commission of certain criminal acts, including assault, robbery, kidnapping or sexual assault. Our attorneys here at the Mary Beth Harrell Law Firm can explain more about these additional charges, and how we can work to reduce them.
Will I lose my right to carry a firearm if I'm arrested or convicted of a crime?
People convicted of certain crimes do lose the right to carry a firearm, as mandated by both state and federal law. These are known as "Categories of Prohibited People." If you're on any of these lists, you're likely prohibited from purchasing or possessing a firearm. Some of these include:
Convicted felons
Individuals covered under a family violence protective order
Persons convicted of family violence assault
You may also be ineligible for a handgun license if you:
Are in default on state or city taxes, government fees or child support
Have any alcohol or chemical dependencies
Have certain psychiatric diagnoses
Have pending criminal charges
In many instances, you can regain your gun rights after a period of five years. We'll go over your case and discuss your options. Our first priority, of course, is working to ensure you're never convicted of an alleged offense in the first place.
Do I have to tell police I have a gun in my car?
Anyone who can legally carry a handgun in Texas can legally carry it in their vehicle. However, generally you can't keep it in plain view, unless it's in a shoulder or belt holster. You can also keep it in the glove box, covered on the front seat or in a console. State law also allows long guns and rifles to be left in plain view (although you might end up losing them to a thief!).
However, if you're pulled over by law enforcement for a traffic stop and asked to show identification, you must also provide your handgun license.
Our guns and weapons defense lawyers understand the laws surrounding your Constitutional rights to own firearms here in Texas. When we take your case, we work to minimize, reduce or even have the charges against you dropped completely. We'll even go to trial to protect your rights if that's what it takes.
Legal help for guns and weapons charges in Killeen
If you're accused of a weapons or firearm offense, you need experienced representation. The criminal defense attorneys at the Mary Beth Harrell Law Firm work to protect the rights of people just like you when facing serious charges. Don't try to go it alone – let us help. Contact us today at 254-680-4655 or by filling out our contact form. We have offices in Killeen and Harker Heights, and handle in-custody visits for clients who cannot come to us.