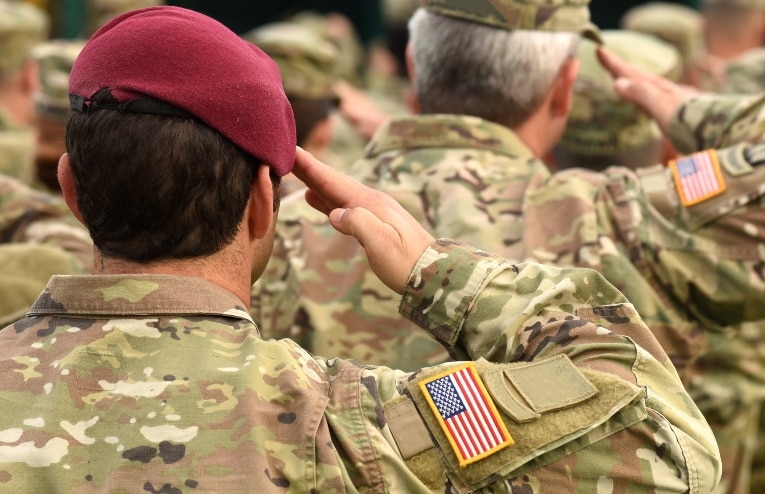 Killeen Defense Lawyers Fighting for Veterans
Experienced attorneys for veterans in Killeen, Harker Heights and Copperas Cove
Many United States veterans suffer from different health conditions, such as post-traumatic stress disorder and traumatic brain injury. Many remain untreated for long periods of time, due to lack of diagnosis or issues adjusting to civilian life. This is why many communities have developed special Veterans Treatment Courts to provide special assistance to veterans who might otherwise slip through the legal cracks in the system.
Mary Beth Harrell is an Army wife and an Army mom: she knows exactly what kinds of challenges vets face when they come home, and when they complete their service. At Mary Beth Harrell Law Office, our Killeen veterans attorneys help veterans who are charged with crimes. We let you know which counties here in Texas have special veterans court treatment programs for those who qualify. We balance providing strong defenses to criminal charges with helping veterans obtain the healthcare they need to treat their underlying problems.
Central Texas veterans deserve as much help as we can offer them
According to Justice for Vets, 20% of veterans have mental health symptoms or cognitive health impairments. If these conditions aren't treated, vets can become involved with substance abuse problems and related crimes.
There are advantages to using these special veteran treatment courts. Judges who are assigned to these courts understand, through the handling of many similar cases, the unique issues that veterans have in adjusting to life when they return home from the military. The courts also utilize interdisciplinary teams of health care providers and court officials to help the veteran. The judges also understand the role of the various veteran agencies that may assist the veteran and the court, such as:
A representative of the Veterans Health Administration's Veterans Justice Outreach attends the court hearings so that private medical records can be accessed
The Veterans Benefit Administration may assist in explaining what disability, training, and education benefits are available
The State Departments of Veterans Affairs may help with other local and state resources
Veteran mentors can help with emotional support
What is the Veterans Treatment Court Program?
Texas has specialty courts that use a veterans treatment court program. These programs are required to have the following:
Integration of judicial services
Non-adversarial approaches which include both defense lawyers and prosecutors working together
Identifying problems early and placing qualifying participants in programs promptly
Access to various rehabilitative services for alcohol, mental health, controlled substance, and other disorders
Monitoring of the care the participants are receiving
Developing coordinated strategies to help the participant comply with the program's policies
Continual judicial oversight
Continual "interdisciplinary education to promote effective program planning, implementation, and operations"
Partnerships with community organizations and public agencies such as the U.S. Department of Veterans Affairs
Including the family members of the participant in the program if they agree to their involvement
Defendants who are veterans and who complete the terms of the program may be eligible to have their charges dismissed with the consent of the appropriate court and the attorney for the state. Completion of the program usually means that the defendant will not be required to spend time in jail.
The veteran treatment court programs are established on a county-by-county basis.
How does the veteran treatment court program work in Bell County?
Bell County created its veterans treatment courts in 2015. Eligibility for the program is based on the following criteria:
The applicant must be a veteran or current U.S. Armed Forces member (which includes the Reserves, the National Guard, and the U.S. Coast Guard, or the State Guard)
There should be a clinical diagnosis of post-traumatic stress disorder, a traumatic brain injury, military sexual trauma, or a mental health disorder (all health conditions must be due to their service time in the military)
The veteran's diagnosis must have materially affected their criminal conduct
Veterans who qualify for the program will be assessed by the VA to determine if they qualify for any of the following:
Disability compensation
Pension
Education benefits
Vocational training
Housing
Employment
Substance abuse counseling
Mental health care
Medical services
Bell County then prepares a formal treatment plan for the veteran, with the help of the veteran's lawyer and the state or county lawyer.
What Is the Veterans Treatment Court Mentor Program?
The Veterans Treatment Court in Bell County relies on mentors from the different armed forces who volunteer to help the participant with the court process by providing "support, encouragement and assistance in navigating VA and local services." Peer mentors are trained to provide help. They've served in military campaigns in Afghanistan, Iraqi Freedom, Enduring Freedom, Desert Storm/Shield, and Vietnam.
What are the applicant criteria?
Requirements for Veterans Treatment Programs may be different in various counties. In McLennan County, for example, applicants to a veterans treatment court must:
Be 18 years old or older
Be able to prove their veteran status
Be eligible for VA care
Be approved by the supervising prosecutor and, possibly, by the sentencing court
Not have any outstanding warrants
Be able to participate in the program – mentally and physically
Be willing to abide by the court conditions, which include:

Staying substance free during the program and submit to regular screening tests
Attending all the treatment programs, probation appointments, and court hearings
Respecting court members, peers, and providers
Complying with the treatment requirements
Killeen defense lawyers fighting to protect veterans accused of crimes
Veterans should understand that our government appreciates their service. This is why there are programs that focus on getting the veteran the help and treatment they need when that's in the best interest of the veteran and the community. At Mary Beth Harrell Law Firm, our Killeen veterans treatment court attorneys are experienced at helping veterans gain eligibility for these specialty programs and helping the treatment courts create the correct program for the veteran. To learn how veterans treatment courts can help you or a loved one, call us at 254-680-4655 or complete our contact form to make an appointment. We have offices in Killeen and Harker Heights.