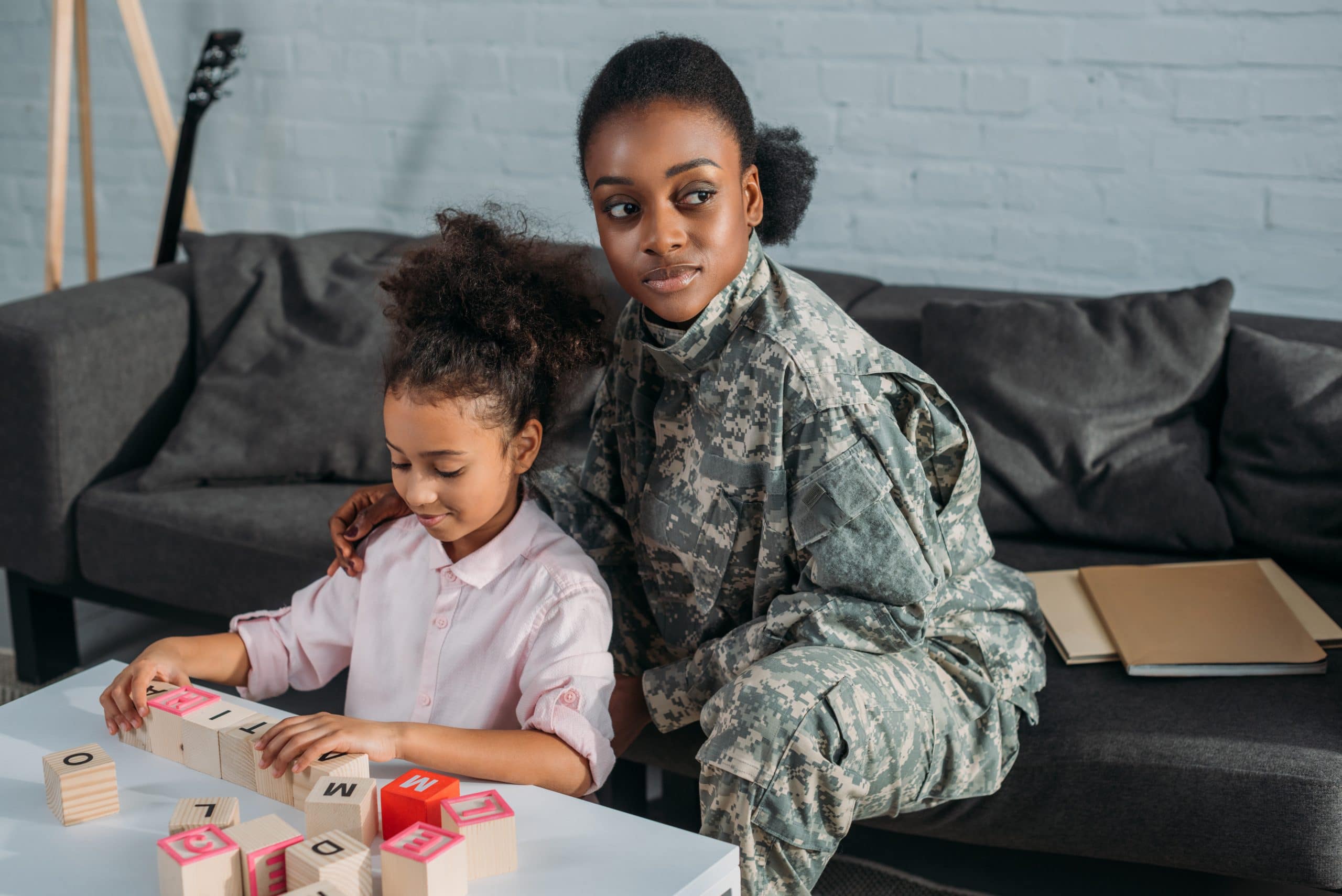 Killeen Military Child Custody Attorneys
Legal help for service members with child custody matters in Harker Heights, Copperas Cove, Waco, and across Central Texas
Child custody plans can be tough to negotiate for any parents. But when one parent serves in the armed forces, these arrangements become even more difficult. Life as a military member is unpredictable at times, calling for flexible hours and deployment on short notice to different states or countries. You or the other parent may be required to live on a military installation like Fort Hood. Being a military mom or dad doesn't preclude you from being a great parent, but it does come with some challenges.
The Killeen child custody lawyers at the Mary Beth Harrell Law Firm understand these challenges because we're parents, too. And further, Mary Beth herself is an Army mom twice over – she gets it. Talk to us today for experienced representation in family law and divorce for service members. Our goal is to protect the best interests of you and your family.
How military service affects child custody in Texas
Whether you're in the military or not, parents can settle matters of custody and visitation on their own (although it's crucial to have any agreement reviewed by an attorney). Many military families create plans that consider when one parent is on deployment versus when they're at home. However, if you can't come to agreement on your own, your lawyers and the court can step in.
As a service member, or spouse of a service member, you have certain rights during a divorce in regard to child custody and visitation. And, as a member of the military, the Texas Family Code has provisions in place that allow you to designate someone to act on your behalf while you're on deployment with respect to your child, provided it is in the best interest of your child. Typically this person is a close family member, and is granted the same rights and access to your child as you would while your child is in your custody and care.
When deciding on matters of child custody involving military families, the court considers the same factors they do with non-military families – the best interests of the child. Whether or not a parent is a member of the military shouldn't affect your child custody case, but we understand your concerns, nonetheless. Many of our clients in the armed forces fear the court may view their job and lifestyle as disruptive to a child's life. Our child custody attorneys work to protect your rights and the rights of your children.
When the parent with primary custody is deployed
Many parents with joint or sole conservatorship (also called custody) in Texas are members of the armed forces, and may be called to deployment from time to time. In this event, the parent can designate another person to take temporary custody. If the deployed parent has joint custody and neither parent seeks a court order, custody automatically goes to the non-custodial parent. If the deployed parent seeks a court order to designate another individual, the court decides based on the child's best interests and will place them with:
The non-custodial parent
Someone designated by the custodial parent
An individual designated by the court
Once the military parent returns from deployment, this temporary custody order expires, and the normal custody arrangement resumes.
When the non-custodial parent is deployed
If a non-custodial parent is deployed, they also have the right to designate another individual to act as a conservator on their behalf. Again, these individuals are usually grandparents or close relatives. Some parents may include this in their custody agreements or family care plans. Texas courts may also allow additional visitation time for a deployed non-custodial parent, in recognition that some deployments can last months, or even years. So contact our Killeen child custody lawyers as soon as possible to ensure your rights to see your children are protected.
Making a family care plan for child custody
If one or both parents are service members, the military usually requires the parents to create a family care plan. Regardless of what branch of the military in which you serve, family care plans contain the same information, including:
Contact information for short- and long-term conservators for the child
Written consent from both parents
Details on how the child will be financially supported while the parent(s) is deployed
Name of person who will take custody of the child in the event of the service member's death
The military requires family care plans in the following circumstances:
The service member is a single parent with custody of a child under 19 years old, or shares custody with another parent to whom they are not currently married
The service member is the sole caretaker for a child under 19 years old, or for an adult family member unable to provide for their own care
Both parents are service members and have custody of a children under 19 years old
Members of the military in any of these circumstances must advise the military immediately, and submit a formal family care plan to their commanding officer.
Military.com talks more about the benefits of family care plans.
Can my ex-spouse or partner change our custody agreement while I'm deployed?
No. We understand that, especially in a particularly contentious custody dispute, you may worry your child's other parent may use your deployment to attempt to take custody of your child. However, as a service member, you're afforded certain protections under federal law. One of these is called the Servicemembers Civil Relief Act (SCRA).
The SCRA puts an automatic stay to any civil domestic legal proceedings involving a deployed military service member. This means that if the other parent files any child custody actions while you're deployed and unavailable, the case will be put on hold. The deployed parent will be notified about the action, and the case won't move forward until a specific period expires, or a judge extends the stay.
As a member of the military, you have protections and rights as a parent. Our Texas attorneys can help you both understand and preserve these rights so you can continue spending valuable time with your child. We'll help you design a custody agreement and family plan that takes every scenario into account and keeps the best interests of your child in mind.
Hometown military family law and child custody attorneys
At the Mary Beth Harrell Law Firm, our divorce lawyers understand military parents face a host of challenging issues, especially when it comes to matters of child custody. No matter what your goal for your child and your family, we work for the best possible outcome. Let us answer all your question and provide knowledgeable guidance. Contact us today at 254-680-4655 or by filling out our contact form. We have offices in Killeen and Copperas Cove, and handle in-custody visits for clients who cannot come to us.