Your FedEx Delivery Person Might Be a Cop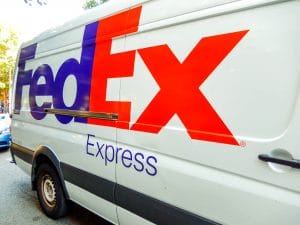 A recent federal court ruling rejected a defendant's arguments that evidence of drugs seized at a FedEx sorting center were taken in violation of his Constitutional rights. The matter of interest in this case is the story behind it, which revealed a fact little-known to the public before now – that the international shipping company has an agreement allowing local law enforcement to seize suspected contraband packages from its sorting centers.
Under this agreement, if drug-sniffing dogs indicate a parcel contains contraband or suspicious material, authorities can seize the package. However, it is at the individual police officer's discretion to determine which parcels merit attention and take action, which can include dressing in a FedEx uniform and delivering the package to its intended recipient.
Herbert Green and FedEx
Herbert Green of Kansas City learned about this agreement when he was arrested for having marijuana delivered to his house. Reason reports that Kansas City Police Department (KCPD) Detective Antonio Garcia noticed a FedEx package in a local sorting center with a return address of Brownsville, Texas. According to Garcia, this area of Texas is a "source city for illegal narcotics," and also noted that the box (a glued-up moving box) was "well-suited to shipping drugs." Garcia's K9 alerted him she sniffed drugs inside.
After seizing the package, a KCPD undercover officer dressed as a FedEx employee delivered the box to Green's house. Green was arrested shortly after taking possession of the package, and police entered his home without a warrant and noted the presence of firearms and drug paraphernalia. They later obtained a warrant to go back and retrieve these items.
Reason reports Green was later indicted for attempting to possess a controlled substance with intent to distribute, possessing a firearm in furtherance of a drug trafficking crime, and possessing a firearm as a felon, and sentenced to five years in prison.
Were Green's rights violated?
Yes and no. In an effort to suppress the evidence against him, Green filed an appeal, claiming violation of his Fourth Amendment right to be free from unreasonable search and seizure. He did so under the exclusionary rule, which under the law reads:
"No evidence obtained by an officer or other person in violation of any provisions of the Constitution or laws of the State of Texas, or of the Constitution or laws of the United States of America, shall be admitted in evidence against the accused on the trial of any criminal case."
Green's attorneys argued that Detective Garcia violated these rights when he pulled Green's package from the sorting facility based on its return address and appearance, depriving FedEx of custody of the parcel. However, the court disagreed, writing, "We conclude that Detective Garcia did not deprive FedEx of custody because he was acting at FedEx's direction."
Green also argued that officers did not have the right to perform a sweep of his apartment without a full warrant. According to court documents, police were authorized to seize only item – the package – but instead "chose not to seize it and exit the premises, and proceeded to walk through the entire apartment for ten to fifteen minutes looking under a mattress, in the kitchen trash can, in kitchen cabinets, and at or in a shoe box."
In this instance, the court sided with Green, agreeing that the scope of the sweep violated his Fourth Amendment rights. However, they also noted that the warrant would likely have been obtained even without a protective sweep. A lower court will now determine whether or not that is true.
Law enforcement and shipping companies
John Wesley Hall, former president of the National Association of Criminal Defense Lawyers and an expert in Fourth Amendment law, tells Reason, "They've always cooperated with law enforcement. Sometimes the cops are dressed like a FedEx driver delivering the package to the house. They've done that forever. And FedEx cooperates with them — even loans them the truck."
A FedEx spokesperson responded, "Security is a priority at FedEx. While we do not publicly disclose information about our security processes and procedures, we do work with law enforcement agencies around the U.S."
However, as Green's case shows, a potential and serious issue with the police/FedEx relationship is that its broad discretion provides the opportunity for abuse of power. Hall points out, "The problem for the rest of us is what are they doing with others, like UPS, DHL, the Postal Service? It's got to be throughout the system. It's not just FedEx."
If you are arrested for a drug crime
Drug charges can turn very serious very quickly if not handled properly. If you find yourself arrested on drug charges, keep the following in mind:
Stay calm and be polite to police officers, even when you are innocent.
Say as little as possible, other than the required identifying information.
Call a qualified criminal defense attorney as soon as possible.
Next, your attorney will represent you at an arraignment hearing, where you will enter your plea. The drug of which you are accused of possessing will decide whether you are charged with a misdemeanor or a felony, as outlined by the Texas Controlled Substances Act.
If you are facing drug crime charges, you need experienced and strategic representation. The drug possession defense attorneys at the Mary Beth Harrell Law Firm have decades of combined experienced helping the people of Killeen and Copperas Cove. Call our legal team today at 254-680-4655 or visit our contact page to set up a consultation.
I've dedicated my legal career to defending my clients. I demand all the evidence. I investigate all the facts, the so-called witnesses and even the police officers. I make it my business to know the law. Cases can be won or lost before you even set foot inside the courtroom.
Read more about Mary Beth Harrell