What Does New Mexico's Marijuana Bill Mean for Texans?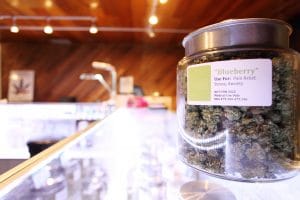 New Mexico is poised to legalize recreational marijuana, with two bills approved and headed to the governor's desk for signing. The bills, which Governor Michelle Lujan Grisham has praised, will legalize recreational marijuana for adults 21 and older, and expunge arrest and conviction charges for certain offenses. Retail sales are set to begin no later than April 1, 2022.
Although Texas has no plans to legalize marijuana any time soon, this new law could have an effect on Texans, and this is an important time to remember that cannabis (in all its forms) is still against the law here in our state.
Duke Rodriguez, CEO and president of Ultra Health, a dispensary in NM, told KTSM News, "We're going to have legalization in New Mexico, it's certainly going to have an impact on the El Paso area. I think a lot of Texas will now have the right to purchase and consume cannabis in New Mexico."
The key word here is "in" New Mexico. If an individual purchases cannabis, flower, vapes, or edibles in New Mexico and brings it back to Texas, they can be arrested and charged with a marijuana possession crime. Ryan Urrutia, commander of the patrol division for the El Paso County Sheriffs' office, explains:
"Edibles or the vape cartridges that people are using now, those are actually a felony possession, so you can actually be charged with a felony if you're caught in possession of THC in that form," he said. "If you're caught with the traditional marijuana, which is the green leafy marijuana, that is still a misdemeanor all the way up to a felony, depending on the amount."
Long story short? Keep any marijuana-related activity limited to states where it is legal.
Marijuana crimes in in Texas
Marijuana and cannabis charges fall under the Texas Controlled Substances Act. Under this Act, "marijuana" is defined as the plant, its seeds, and any compound, mixture, or derivative. This includes oils and edibles. A person can face drug charges for a variety of marijuana crimes, including:
Growing and cultivation
Possession
Possession in a drug-free zone
Possession of drug paraphernalia
Trafficking
Texas takes marijuana possession very seriously, and just four ounces or more of cannabis can bring felony charges and penalties, including:
Possession of between four ounces to five pounds of marijuana is a state jail felony, punishable by 180 days to two years in prison, and fines of $10,000.
Possession of between five to 50 pounds of marijuana is a third-degree felony, punishable by two to 10 years in prison, and fines of $10,000.
Possession of between 50 to 2,000 pounds of marijuana is a second-degree felony, punishable by two to 20 years in prison, and fines of $10,000.
Possession of 2,000 pounds or more of marijuana is a first-degree felony, punishable by five to 99 years in prison, and fines of $50,000.
As you can see, a marijuana conviction can take away your rights and freedom in an instant. The drug defense attorneys at the Mary Beth Harrell Law Firm protect your rights and fight the charges against you. To set up a consultation, call us today at 254-680-4655 or visit our contact page. We proudly serve clients from our offices in Killeen and Copperas Cove.
I've dedicated my legal career to defending my clients. I demand all the evidence. I investigate all the facts, the so-called witnesses and even the police officers. I make it my business to know the law. Cases can be won or lost before you even set foot inside the courtroom.
Read more about Mary Beth Harrell