Texas' Potential New Handgun Law Is Raising Concerns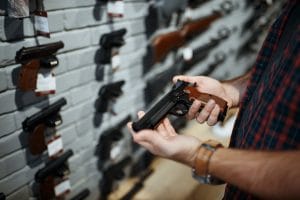 Texas is primed to pass the most lenient Constitutional carry law in the United States. The change would allow anyone who is over the age of 21 to carry a handgun in the state without licensing or training. When Governor Abbott signs House Bill 1927 into law, Texas would become the largest state in the country with such a law on the books.
The legislation has cleared the Texas state senate by a 17-13 vote and the house by an 82-62 vote. It was introduced by Senator Charles Schwertner. Schwertner said the legislation was created to "protect the right of law-abiding Texans to carry a handgun as they exercise their God-given right to self-defense and the defense of their families."
"This is a simple restoration of Texans' constitutional right under the Second Amendment, a right of the people to keep and bear arms," Schwertner said. "I think it is a bill that is the strongest bill I've seen in my legislative career regarding the rights of our Second Amendment."
Representative Joe Moody, from El Paso, is concerned about the law leading to increased gun violence, especially since the mass shooting that occurred in El Paso was just two years ago. "All [El Paso community members] wanted was something better. All they wanted was some accountability. Yet here we are. When the doors were closed, I heard lots of promises. I haven't heard them since," he said
Texas has a long history when it comes to gun rights, but handguns were different
Laws of this nature are nothing new in the state of Texas, which passed a law in 2015 allowing guns on college campuses. The state has always allowed residents to carry rifles out in public without the necessary permit.
However, the state always held strong on tough licensing policies for handguns. Those policies and requirements included a training program ranging from four to six hours in length, demonstrating shooting proficiencies, and a written test. The legislation would extend the rights of those with permits to carry rifles to automatically carry handguns in public. The new law would only require handguns to be kept in a holster and not in a shoulder or belt harness.
When Governor Abbott signs the legislation into law, as he has signaled that he would, all of these requirements would become null and void throughout the state.
However, anyone who has been convicted of a federal crime and can no longer carry a handgun under federal provisions will not be permitted to carry under this new law. The Texas Department of Public Safety will also be required to offer an online gun safety course for free.
Police unions worried about new legislation
The police unions in Texas are worried about a spike in gun crime if the new legislation is signed by Governor Abbott. Douglas Griffith, president of the Houston Police Officers' Union, said he isn't concerned with gun ownership or an increase in gun ownership. He is, however, concerned with the lack of training. "Now you are going to have a bunch of untrained individuals out there," he said. "That makes me fearful for our community."
Harris County Sheriff Ed Gonzalez is worried that the new law could return Texas to the days of the Wild West. "Permitless carry does not make our community safer," Gonzalez said. "Instead it increases the odds of deadly confrontation and puts the lives of first responders at even greater risk."
What happens if I am arrested with a handgun in Texas?
Once Governor Abbott signs this legislation it will become Texas law, therefore making it legal for anyone over the age of 21 to carry a handgun in public so long as it is in a holster. The question remains, will businesses, churches, restaurants, and other entities ban guns on their properties?
This becomes a tricky situation for gun owners. Can a place of business refuse service or refuse to allow you to enter if they see a gun on your person? Can you be arrested for carrying a handgun in any of these places? The answer is likely "yes," as private business can deny entry to customers for any reason, provided those reasons are not discriminatory in nature. The new law would also prevent you from carrying a handgun in the following places, which is part of the current firearms law of Texas:
Schools
Polling places
Airports
Hospitals
Government buildings
Horse or dog races and sporting events
Bars and restaurants where 51 percent of the profit comes from the sale of alcohol
Courtrooms
Federal buildings and land
National park buildings
Private businesses
Any private property where the owner has posted a sign banning firearms
Will there still be weapons enhancements for other criminal charges?
You can still face weapons charges even if the new legislation is signed into law. For example, if you are found to be in possession of a weapon on federal land, or in a courtroom, or in a school or hospital, you can have the firearm confiscated and face weapons charges. If you use a firearm in the commission of a crime, you can still be charged with a crime.
But there will be challenges. Say you are stopped for speeding, running a red light, or tailgating and have a handgun on your seat or on your person. Will an officer feel he or she is unsafe and take deadly force? What if you are caught shoplifting and a weapon is discovered on your person; could you face charges of armed robbery, even if you never threatened or used the gun? These types of questions aren't answered with the new bills, and they will need to be addressed quickly in revised statutes.
You have a Constitutional right to bear arms, but this new law poses some risks. If you have been arrested for carrying a handgun in a store, church, or another public place, you need the experienced criminal defense team from Mary Beth Harrell on your side. Call our office at 254-680-4655 or complete our contact form to schedule an appointment. We have offices in Killeen and Copperas Cove so we can better serve clients throughout the state.
I've dedicated my legal career to defending my clients. I demand all the evidence. I investigate all the facts, the so-called witnesses and even the police officers. I make it my business to know the law. Cases can be won or lost before you even set foot inside the courtroom.
Read more about Mary Beth Harrell