Spotting the Warning Signs of Domestic Violence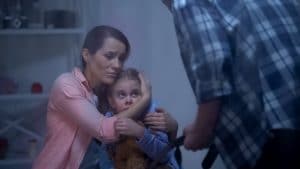 Everyone has a friend who has been involved in a volatile relationship. Maybe someone who cares about you tried to discuss it with you, or maybe they were too afraid of how you would react. Regardless of who the friend in trouble is, he or she needs help before it is too late.
In 2018 in Texas, there were 211 romantic partners killed as a result of domestic violence. There has always been a high incidence rate of couples violence in the United States but even more so recently with businesses closing, jobs being lost and couples, with or without children, being stuck together much of the day with no reprieve. The need for protective orders is bigger than ever but victims who are being constantly monitored cannot reach the resources they need in order to obtain that help.
Learning about domestic violence can save a life
Domestic violence, spousal abuse, partner abuse, family violence, and romantic partner abuse are all terms that describe a pattern of behavior by one person in an intimate relationship over their partner to gain control. It used to exclusively refer to man-on-woman violence, but can happen regardless of age, gender, sexual orientation, race, religion, education, or socioeconomic status.
Abuse can constitute a number of characteristics designed to intimidate such as:
Physical control by restraining your movements or hitting you
Sexual assault or aggression to include stalking
Emotional degradation
Verbal abuse intended to diminish self-worth
Economic abuse by denying access to money to force total dependence on the abuser
Gradual isolating you from friends or family
Blaming you for causing your abuser's actions
Warning signs that signal abuse
Maybe your friend has made comments that made you take pause and wonder if he or she is in trouble. Maybe he or she has simply dropped off the grid. There are signs that might point you toward recognizing domestic violence is taking hold and you could be the only one in the position to help.
Ask yourself whether you've witnessed behavior from the abuser such as:
Jealousy and/or possessiveness
A temper over even minor things
Name calling or other verbal abuse he/she laughs off
Putting the victim down in front of an audience
Grabbing, pinching, shoving, pushing, pulling, slapping, or hitting
Attempting to get his/her way through use of threats or intimidation
Keeping tabs on the victim's location and who he/she is with
Making excuses for his/her behavior
Flipping the situation to make it appear like he/she is the victim
Monitoring phone calls to friends or family and preventing the victim from seeing them
Pressuring the victim into sexual activity
Victims may display certain telltale behaviors of abuse such as:
Being anxious about angering their partner
Going out of their way to avoid even minor confrontation
Fear over how their partner could react to something
Making excuses for their partner's behavior
Taking the blame for angering him/her
Remaining in the relationship despite clear signs of abuse or unhappiness out of fear of their partner's actions after a breakup
Apprehension and depression, especially when it's time to go home
Withdrawing from friends and family
Wearing clothing or accessories meant to hide bruises or other injuries
Helping a domestic abuse victim
You need to be careful when attempting to offer a victim help. Unless you are very familiar with everything that has happened and you know both the victim and abuser well, you may be putting yourself in danger by taking the wrong steps.
Call 911 if there is immediate danger to the victim and try to hide until help arrives.
If the victim is not in imminent danger but is ready to leave, you can help him/her find a temporary place to stay.

For your own safety, it's not advisable for the victim to stay with you if the abusive partner has a history of violence it would be safer for the victim to move into a shelter or a place where the abuser will not find him/her.

Encourage your friend to file a police report and seek a protective order once he/she has left the home. Police escorts can also be used to accompany him/her to the home to gather personal belongings to leave safely.
No matter what you do to help a domestic violence victim, you cannot be responsible for their decisions. The most useful thing you can do is help them find resources including an advocate who will fight to keep him or her safe.
If you or a loved one is dealing with an abusive spouse or romantic partner and you need help getting your life back, call the family violence and protective order attorneys at the Mary Beth Harrell Law Firm now. To schedule a consultation in our Killeen or Copperas Cove office, call us today at 254-312-2523, or we invite you to visit our contact page.