Medical Kidnapping Got Much, Much Harder in Texas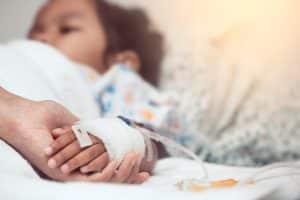 As a parent, your worst nightmare is your child becoming sick with a serious illness or cancer. You want your child to receive the best possible care, in a safe environment with the least amount of adverse side effects. But what happens if you and your child's doctor disagree on treatment? As your child's parent or guardian, you have the right to make decisions regarding their health and welfare, as well as seek different medical opinions on treatment.
However, in some instances, authorities get involved. The police or Texas Child Protective Services (CPS) may remove your child from your custody to administer medical treatment they claim is necessary.
This may sound far-fetched, but it happens to families more often than you think. When a physician, hospital, or other medical facility oversteps or abuses its power, children can get caught in a dangerous tug-of-war. Most medical kidnapping incidents occur when parents, or the parent with primary custody, disagree with doctors regarding their child's diagnosis or recommended treatment. In cases where authorities or CPS get involved, it is crucial to get the help of an experienced family law attorney immediately to protect your child's rights.
It happens here in Texas, too
In June 2019, the story of Drake Pardo made headlines throughout the country. Four-year-old Drake Pardo was a medically fragile child with developmental problems, as The Texan reported, and his parents sought advice from doctors about how to help with his feeding issues. When the family was unhappy with the first doctor's recommendation, they fired him and hired another. The original doctor then reported that he suspected abuse, and made a report to the facility's child abuse pediatrician, who then reported those suspicions to CPS.
Within weeks, CPS forcibly removed Drake from his parents' home, alleging "medical child abuse, a rare psychological condition where a parent — usually the mother — will exaggerate or fabricate illnesses to have a child medically treated."
It took the Pardos close to seven months to get Drake returned to them, and for the case to finally be dismissed. But there are families throughout the country who are not this lucky.
The new(ish) Texas law that protects families
What happened to Drake was a wake-up call for the Texas legislature. The Imprint reported in 2021:
A new state law effective this month scales back the influence of doctors working for the Forensic Assessment Center Network, which has provided consultation to the Texas Department of Family and Protective Services since 2006….
As of Sept. 1, parents accused of child abuse based on these forensic specialists' review of their cases will be able to obtain a second medical opinion — regardless of ability to pay — and to present a conflicting opinion to a judge in family court.
This ability to gain a second opinion is critical, because some families spends thousands of dollars to hire expert witnesses for their cases – cases they never should have had to endure.
It's also important because per The Imprint, Forensic Assessment Center "Network doctors receive as much as 60% of their salaries from the child welfare agency, consulting on abuse and neglect cases and providing expert testimony in court when children are taken from their homes into foster care." The new law, therefore, removes the financial incentive from the Network; after all, if those second opinions always negate the Network's assessment, then why pay the Network at all, right?
What are my rights regarding my child's medical treatment in Texas?
While the new law should make medical kidnapping much harder, it may not eliminate the issue entirely. And CPS will retain the right to remove a child if they believe there is abuse, even if that abuse is medical. For example, if your child is prescribed a medication and you opt to use holistic methods, CPS and doctors may still see this as abuse.
This gets especially complex when it comes to religious beliefs. In Texas, you are legally allowed to seek a medical exemption for vaccines for your child based on your religious beliefs. The law also requires that parents have "the duty to support the child, including providing the child with clothing, food, shelter, medical and dental care, and education." What it does not say is what that support – or treatment – should look like. Furthermore, Texas law also says that non-parents can consent to treatment on your child's behalf in certain situations.
Part of your rights and responsibilities as a parent or guardian is the right to make important decisions regarding the health and care of your child until they turn 18 years old. This means you have the right to seek second opinions, to accept or reject medical opinions, diagnoses and treatment if you believe it will cause harm to your child. You also have the right to be completely informed about every treatment and procedure.
To protect your child's health and rights, ensure you keep a copy of all their medical reports and records. It is also your right to vet the qualifications of any medical professionals or specialists treating your child. As a parent, you act on behalf of your child and it is imperative that you do so in their best welfare.
If your child is a victim of medical kidnapping, you will need legal help as soon as possible. Mary Beth Harrell Law Firm has experience helping families who are unfairly and unjustly targeted by Texas CPS. Please call 254-680-4655, or fill out our contact form. We maintain offices in Killeen and Copperas Cove, and serve Belmont, Temple, and all of Central Texas.
I've dedicated my legal career to defending my clients. I demand all the evidence. I investigate all the facts, the so-called witnesses and even the police officers. I make it my business to know the law. Cases can be won or lost before you even set foot inside the courtroom.
Read more about Mary Beth Harrell