Is Online Dating Worth the Real Risk of Divorce?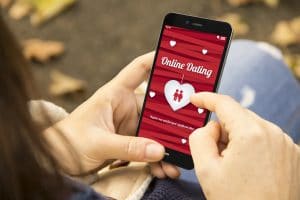 We are truly in the age of technology. Every day, new advances are finding new ways to connect people all over the globe, and as a whole this is great. We are a social species. We need interaction and connection, friends and acquaintances and family, to truly be happy, and all these new apps and programs have made that easier to do than ever. As the COVID-19 pandemic forced many of us into isolation, we needed that tether to society more than ever before.
However, when it comes to online dating, it may be more of a headache than a fairytale. The speed and ease of dating apps makes it all too easy to rush into relationships with people you might not know as well as you think. When the rose-tinted glasses lift, newly married couples – living together in person for the first time –may be eager to sprint to the courtroom for the exact opposite of a vow renewal.
Record numbers of people used dating apps in 2020 and 2021
Of course, everyone has their own unique love story, and everyone is different. Sometimes, meeting people on dating apps lead to life-long love connections and happy marriages. But over the last year and half, dating apps reported record numbers as an unprecedented amount of singles raced to virtual dating, motivated by both loneliness and an impending sense of pandemic-caused dread that they're running out of time.
A new report from Tinder shows just how reliant people have become on online dating since the start of the pandemic — and how different it was from dating outside a global health crisis. The report used data from Tinder profiles and aggregated app activity between January 2020 and February 2021, as well as surveys of about 5,000 Tinder users. It also discussed how the launch of video chat on the app and its ensuing popularity might change how dating works forever.
The biggest takeaway was that all the activities related to online dating ratcheted up during the pandemic. Conversations on average were 32 percent longer than they had been pre-pandemic and people matched — meaning both people found the other attractive — 42 percent more. There were about 20 percent more messages per day in February of this year than there had been in February of last year. The number of swipes on Tinder broke 3 billion in a single day for the first time in March of 2020, and then proceeded to surpass that benchmark 130 more times since. And the increased use of dating apps was not isolated to Tinder. Competitors like Bumble and Hinge also saw huge growth during the pandemic.
Do online matches last?
The downside? The honeymoon period ends for everyone, and couples who only know each other online may be in for a rude awakening when they meet in person. There is only so much that can be communicated with words alone, even with video chats, and couples are starting to find this out the hard way. A recent study found that, unfortunately, people that met on dating apps are likelier to divorce within the first three years of their marriage.
As pandemic-couples start to tie the knot and move in together with little-to-no in-person bonding, this trend is probably going to go up. Marriage is not ever something that should be rushed into, no matter how much of a dream come true your relationship may seem. If you do meet your significant other online, make sure to spend plenty of time with them offline before making any commitments.
How should I prepare for a divorce?
If you find that your new spouse is not quite who you thought they were and you decide to end the marriage, know that the biggest way to protect yourself and your money is to protect your case — especially if you and your soon-to-be-ex end things on bad terms. Assume they have already started building a case, and act accordingly.
Whether or not divorce proceedings have begun, there are some do's and don'ts to keep in mind.
Do:
Consult with legal representation you can trust
Follow all court deadlines and orders
Cooperate with your spouse when needed (if circumstances allow)
Be honest about all assets, funds, and facts of your case
Put any children first with every decision you make
Resist the urge to do anything that could be seen as petty or vindictive
Don't:
Use children as bargaining chips or leverage in any way
Rush to any settlement agreements without consulting an attorney
Move or hide assets, or do anything that could be seen as suspicious
Post about the divorce on social media in any way, especially while it is still in process
It can be all too easy for well-meaning people to accidentally hurt – or even entirely ruin – their own case with simple mistakes. Of course, a divorce is an incredibly emotional thing, but try to remain as level-headed as possible. Acting out of anger, especially in a way that is vindictive or damaging, can threaten every aspect of your case, including any child custody plans. You want the court to see your goals as the best possible outcome for your children and for you.
This is why you need a professional, experienced Killeen divorce attorney on your side to help guide you through each decision and keep you informed every step of the way. At the Mary Beth Harrell Law Firm, we are honored to be that representation for you. No matter how you met your spouse, we understand how delicate and painful a divorce can be, and we offer compassionate and tenacious work that puts you and your family first. To get started and learn more, give us a call today at 254-680-4655 or use our contact form. We have offices in Killeen and Copperas Cover for your convenience.
I've dedicated my legal career to defending my clients. I demand all the evidence. I investigate all the facts, the so-called witnesses and even the police officers. I make it my business to know the law. Cases can be won or lost before you even set foot inside the courtroom.
Read more about Mary Beth Harrell