Breaking Down Hate Crimes in Texas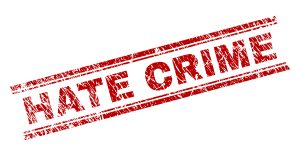 The term "hate crime" entered the American vocabulary sometime in the 1980s and 90s, although the FBI investigated hate crimes as far back as World War I. Hate crimes are serious offenses and the court treats them as such. If you are facing hate crime charges, it is essential you understand the allegations against you and potential penalties of conviction.
What is a hate crime?
According to the FBI, a hate crime is "criminal offense against a person or property motivated in whole or in part by an offender's bias against a race, religion, disability, sexual orientation, ethnicity, gender, or gender identity." The first federal hate crime law passed in 1968, and the FBI was authorized to investigate crimes against people based on gender, sexual orientation, and gender identity under the Matthew Shepard and James Byrd, Jr., Hate Crimes Prevention Act of 2009.
In Texas, a hate crime is an illegal act against another individual that victimizes them on the basis of their ethnicity, race, social status, sexual orientation, gender, or disability.
How prevalent are hate crimes in Texas?
Just about any crime can be elevated to the status of a hate crime if prosecutors and investigators determine that hatred or prejudice was the motivation for the crime. This can include assault, theft, vandalism, or homicide. The United States Department of Justice (DOJ) shows the following hate crime statistics for 2019 in Texas.
Crimes against persons: 361
Crimes against property: 166
Crimes against society: 33
Among these crimes, the FBI categorized these crimes into bias motivations, which broke down as follows:
Race/ethnicity/ancestry: 300
Religion: 44
Sexual orientation: 71
Disability: 19
Gender: 7
Gender identity: 18
What are the penalties for committing a hate crime in Texas?
If you are charged with a hate crime, your original charges are upgraded by one degree. For example, if the original offense is a third-degree felony, your charges will be upgraded to a second-degree felony. Texas Penal Code 12.47 sets out these penalties. These penalties exclude first-degree felonies, and Class A misdemeanors (which will instead add enhanced jail time).
When does a crime become a federal hate crime?
Hate crimes can also be charged on a federal level under 18 U.S. Code 249. Under federal law, an individual can be imprisoned for up to 10 years, along with financial penalties, if they are convicted of  "willfully causing bodily injury to any person or, through the use of fire, a firearm, a dangerous weapon, or an explosive or incendiary device, attempt to cause bodily injury to any person, because of the actual or perceived race, color, religion, or national origin of any person."
This penalty is raised to up to life in prison if "death results from the offense; or the offense includes kidnapping or an attempt to kidnap, aggravated sexual abuse or an attempt to commit aggravated sexual abuse, or an attempt to kill."
What about hate speech?
Hate speech is not illegal in Texas or the rest of the United States – however, you will run into legal issues if that speech incites violence and directs people to take immediate action. An experienced criminal defense attorney can explain this in more detail if you are facing these types of charges.
Consequences of a hate crime conviction
A conviction for any type of hate crime can follow you long after you have served your time and paid your penalties. These are called collateral consequences and a criminal conviction on your record can have long-lasting and negative effects on your life, including:
Loss of employment, including discharge or demotion from the military
Loss of the right to own a firearm
Disqualification for certain government loans and benefits
Loss of security clearances
Losing the right to vote
Civil asset forfeiture, in some cases
Loss of child custody
Loss of the right to hold public office or serve on a jury
Because of the seriousness of the outcome of a hate crime conviction, having an attorney on your side to defend your rights is paramount.
Defenses to a Texas hate crime arrest
The element that differentiates a hate crime from standard criminal charges is bias. One of the ways your attorney can defend you against a hate crime is by showing that this element did not exist, and your actions were in no way motivated by prejudice or bias.
If you did not commit the crime in the first place, your attorney will also work to prove that mistake of fact.
Other defenses include unconstitutional arrest or violation of your rights, self-defense, and a number of other legal strategies. The most important thing to keep in mind when you are fighting criminal charges, no matter what they are, is that an arrest does not mean a conviction. When facing felony charges, your immediate priority should be securing an attorney to help you get those charges minimized, reduced, or dropped.
Hate crimes are extremely serious, both in Texas and federal courts. Ensure you have the right advocates on your side. The criminal defense attorneys at the Mary Beth Harrell Law Firm can help. Call our legal team today at 254-680-4655 or visit our contact page to set up a consultation. We proudly serve clients from our offices in Killeen and Copperas Cove.
I've dedicated my legal career to defending my clients. I demand all the evidence. I investigate all the facts, the so-called witnesses and even the police officers. I make it my business to know the law. Cases can be won or lost before you even set foot inside the courtroom.
Read more about Mary Beth Harrell